What can I say about this workshop? It was phenomenal! My experience of the workshop has transformed my communication and relationship to men.  If I can be candid with you, since my divorce some good many years ago, I believed that there was nothing a man could do for me that I could not do for myself. Truth be told, the only thing that a man could do for me was sex – a good roll in the hay and I knew what I liked and was not very open to anything else.  Sex was one of the few things that a man could provide for me, plus a few handyman things.
Now don't get me wrong, I love men and there were other things that they could do for me, but sex was the prime ingredient.  I was not looking for a partner. Furthermore, from where I stood, there was not much I could see.  Yes, you might even say that I objectified men.
Some time ago, I had a relationship with a man and this time, I completely allowed myself to enjoy my interaction with him, spending times when we were just being together. During my interactions with him I felt loving, kind and generous. I discovered that the missing ingredient was me.  As it turned out, the relationship did not last, however the experience left me wondering and feeling wonderful. I had love for this man, which was great.  I had learned to express love.
After that relationship, it dawned on me that what I desire is a committed loving relationship with a man. However, as an adult woman, I had no idea what it would take or who I had to become to have one.  So I started to inquire about what having that kind of relationship would take.  That is when I found the book, Calling in the One.  I started reading it and saw all the exercises and realized that I had no interest in going through the book alone and invited some women into having me facilitate a group where we would go through it together.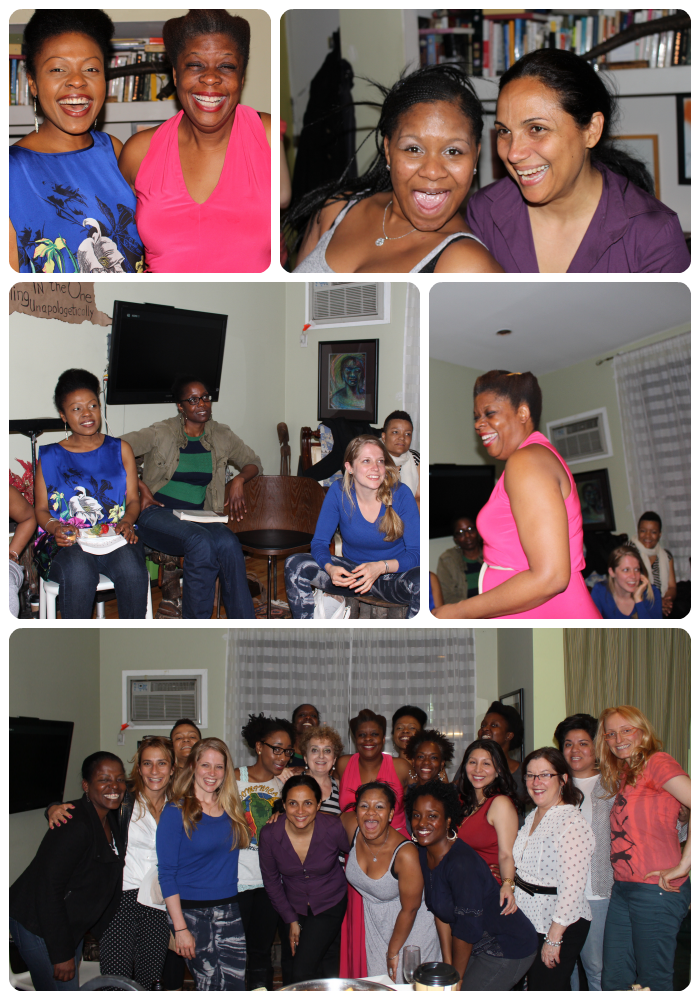 It was a wild and woolly experience that ended a nine week experience with all I could say was WOW.  It was emotional, I cried buckets of tears, and I discovered things about myself that I did not know. During one of the exercises on releasing, I experienced what I can best describe as synchronistic: boyfriends, ex-husband, ex-lovers all turned up almost from out of the blue with apologies for things they had said or done in the relationship.  Memories came flooding back of the kind of relationship my mother and father had.  Long and difficult conversations with my former husband were had. I developed a new and profound respect for myself and men, the discovery of what love as an expression really is for me and for others.
Although I was the facilitator of the workshop, I was doing the work alongside the other women. The workshop had me go places that no ordinary woman would want to go.  The women who participated in this workshop were and are an extraordinary class of women who made it safe for everyone to go to those places.  This workshop is a microcosm of life on the court. The heavy lifting and removing obstacles and the resulting lightness of being afterwards has left me more accepting of men than ever before, which is resulting in the beginnings of new friendships. I could not have done this work without the other women in the group. What I saw was that thriving relationships are not for the weak at heart.  In relationships one is compelled to look at oneself in the face through the reflection of another. This workshop is for all women who love who they love, where women who are looking at themselves get to see themselves through the nonjudgmental listening of other women.
As previously mentioned, I based this workshop on the book, Calling In the One by Katherine Woodward Thomas, and what I provided was a support structure with respect and a safe space for women to express themselves.  I will be facilitating another workshop later this summer.
Come to our Introduction Party on June 15th, 2014 at 3:00 p.m. to learn more about this wonderful workshop!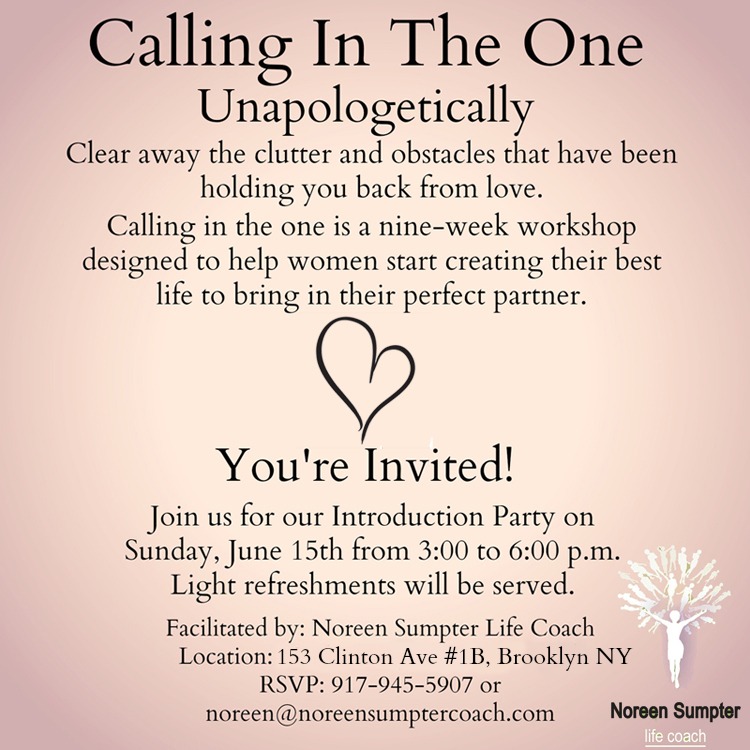 TESTIMONIALS
"I love this workshop! When I started this workshop I was single for three years, not really having any luck in the dating scene. As a lesbian in NYC, your outlets to meet new women are limited to a handful of bars and I wasn't having any luck on online dating. I felt lost navigating through the urban jungle and through social life of the LGBTQ scene. I eventually threw in the towel and told myself I was never going to meet anyone, ever again. 

The moment I started this workshop things started moving for me! I was able to forgive my exes and let go of past wrongs and hurt from all relationships in my life. I started working on powerful affirmations for my life, on my self-confidence, and creating my dream woman. Two weeks into the course, I had the courage to ask out a woman that I really admire. Now, you must know I NEVER would have taken the chance! I had no idea how it would go and I was terrified – I didn't even know if she was into women! I "made of move" and it's been a blast ever since! Dating someone while taking this workshop has made the biggest difference. Weekly I come and share what I want to create and let go of insecurities so I can have a healthy relationship.  I'm committed to going from a "me" to a "we." And, the woman I am dating is the woman of my dreams!" – Kat Pactong

"I am so simply amazed that Noreen just kind of fell into my life and presented me with the gift of being a part of a group that is so life changing and touching. Before CITO  I just didn't know how to articulate my feelings or express them correctly or effectively , through each week I am now able to be authentic and open in a way that sharing is as natural to me as breathing. I feel a greater sense of well being & belonging. I learned so much from the women in the group. I have shared the most recent phases of my journey with them. What made me feel a greater sense of powerful vulnerability is when Noreen would share . I realized through her that wherever we are in life we are all human. CITO changed my life & I am so ecstatic to pass this message along! I BELIEVE WITH MY WHOLE HEART IT WILL CHANGE YOURS TOO!" – Aleisha D. Stewart

I would love to connect with you on social media. Please feel free to reach out to me on 
Twitter
 and 
Facebook
Last week I talked about friendships and what happens when they suddenly end. I have been pondering my friendships to understand what happens and what it will take for me to be a great friend as well as an incredible Life Coach in the area of Confidence and Self Esteem.
What I saw in myself and my friendships was shocking.  I've been being a bratty demanding friend and ending relationships with the Kiss of Death.  I want you to know, that I have been doing some powerful work in and around my friendships. I have taken  immediate action, cleaned up and have gotten rid of olds way of behaving that no longer work or serve me.
What I know is that I love my friends. My friends love me and love being with me.  However, what I saw about myself is that I do not have space for them to make mistakes in their friendship with me.  I want my friends to be perfect and not cause me any concerns or hurt me in any way that I deem unsuitable for a friendship. So the moment I experience an upset or cause for concern, real or imagined, I confront them. If they do not act the way I want them to, I end the relationship. I am gone.  They're dead to me. This has cost me a lot of friends.
This is just a basic example of what I do:
I send them a text or email which is filled with love and the Kiss of Death.
I erase them from all my communications, Facebook, phone etc.,
When I see them around, I ignore them.
I don't want to know anything about them ever because I'll get upset.
Whenever I think about them and have unresolved emotions.
This is what I am left with:
Friends that I have ignored or mentally killed off.
Friends who even if they wanted to be in communication, cannot reach me they're blocked or ignored.
I have am upset, angry and miss my friends.
I am left with longing with memories of great friends and times that are no long present in my life.
Continuous conversations and stories about what happened or did not happen.
What I'm already being is:
Stubborn – I'll be dammed, l'll no longer communicate with them.
Justified – They are wrong, I am right.
Angry and pissed off – To hell with them!
Sad and replaying memories– I'm stubborn and I will not surrender.  They have to say they are sorry first and confess the wrong they have done me.
In the end, what I discovered is that I need to accept my friends as humans. They are going to do and say things that I do not agree with.  Whatever happens in my friendships is not personal. I can accept them anyway they are and are not. I realize what was missing is: vulnerability, integrity, love, patience, kindness and graciousness.
I took on what was missing in my life and what I saw was the piles up upset feelings I created for myself and for my friends.  I realize that this way of being is not who I want to be in my life. I proceeded to call my friends and send email to them and one by one.  I put the integrity back in my life and my relationships by sharing my experiences and how I felt about our relationship.  I let them know I could be counted on going forward.
The response has been great. They got to share how it was for them being on the other end of my stuff (crap.) For those I spoke on the phone with, I have declared that I will clean up with them in person as well.  I shared with them what was there for me, what had me kill off the relationship and how the fear of being told what to do, of being wrong, judged and evaluated, actually impacted our friendship.  I had no compassion for my friends and was being a spoiled brat. The person who was being hard on me was me.
Going forward, my friends get to choose powerfully if they want to engage in a relationship with me from nothing.  I get to accept them as they are and as they are not. If I cannot accept them how they are, then I have no right calling myself a friend.  I don't have to make them wrong and me right.  This approach does not work. I am a Life Coach and create transformation in other people's lives.  It was a young conversation which caused me to get reactivated and where I did not have language.  Well, I have the language now and I will use it.
With all that said, I want my friends to know that I love them. I am transforming my old friendships into friendships where I have understanding and communication, where I will be being vulnerable, loving, gracious, and kind. They get to be however they are and choose powerfully if they wish to be friends with me. Together, we create relationships that work.  With that I no longer have to experience fear of loss, upset or some impending hurt.  Whatever way my friends choose to be is fine.
Where in your life are you willing to take action and reclaim your friendship with people you have killed off by giving them The Kiss of Death?
Love, Noreen Sumpter