"I'm on LinkedIn, but I'm not sure what to do." I hear this all the time! LinkedIn is far more than just another social media platform. It's THE social media platform for business and it can help you in many ways.
October's Lunch Lady was an interactive presentation from LinkedIn expert and content marketing strategist, Judi Hays.
What is a LinkedIn Profile Roast?
If you've ever roasted a marshmallow, you know that marshmallows start out perfectly perfect white poofs of sugar. But when carefully roasted they please different palettes.
You are like a marshmallow. Perfect just as you are.
However, to effectively optimize your LinkedIn profile, you need to be able to communicate your perfection to your ideal audience. During this live LinkedIn Profile roast, Judi Hays took the LinkedIn profile — your marshmallow — and roasted it to please the palette of your target LinkedIn audience.
Judi went over each section of the LinkedIn profile and provided attendees with an overarching assessment followed by strategic and actionable tips to guide them to get the most from their profile.
In this session Judi covered the following:
✔️Establishing your professional brand
✔️Finding, connecting and engaging with the right people
✔️Building meaningful relationships
✔️Engaging with Insights
✔️Plus some really cool "ninja" tricks to make the most of your LinkedIn experience.
Attendees left this Lunch Lady Event with a clear understanding of how to leverage LinkedIn to grow their brand and their business.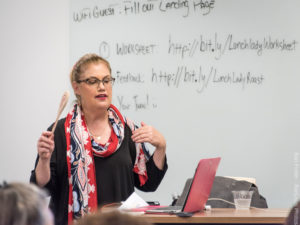 Who is Judi?
Judi Hays is a data-driven marketing strategist who specializes in LinkedIn. She is the owner of Judi Hays, Inc. a digital marketing consulting firm that provides turn-key LinkedIn campaign management, sales team training, and profile makeovers. Judi's innovative and analytical point of view to creating strategies, tactics, and stories is foundational to her approach to mastering LinkedIn. Her philosophy is centered around creating compelling content that leads a targeted audience to the client's solution, ultimately driving conversion and high ROI.
Judi is also a published author of 12 books including Restaurant Design, Menu Design, and Shopping Bag Design. She's lived in Austin TX, San Francisco, and New York.
'