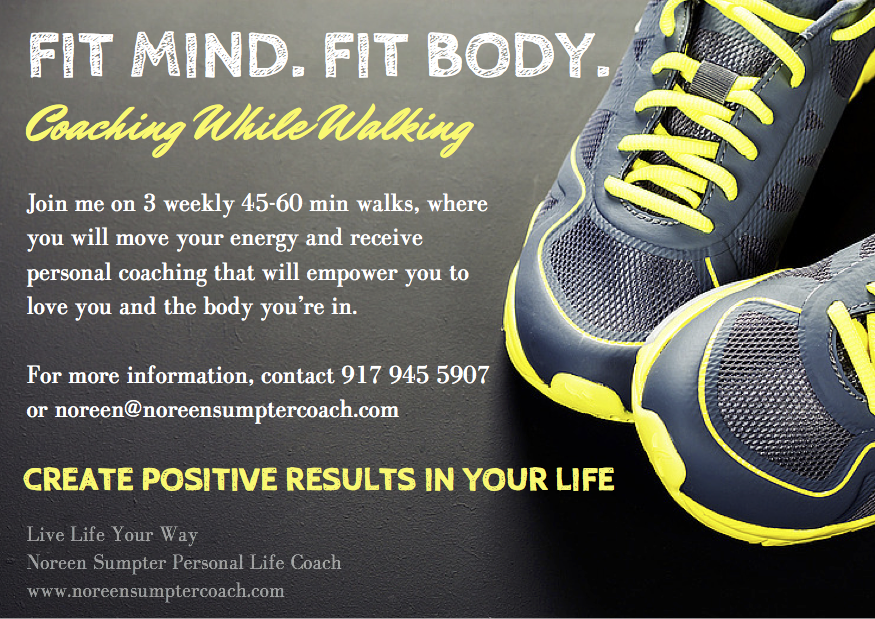 Starting June 1, 2015
HAVE YOU BEEN WANTING TO WORK OUT IN THE MORNING AND YOU JUST CAN'T SEEM GET OUT OF BED? DO YOU WAKE UP AND RENEGOTIATE YOUR PROMISE TO EXERCISE, TURN OVER IN BED AND SAY @#$@ IT, OR DO ONE OF THE FOLLOWING THINGS:
GET UP AND GO WORKOUT
PULL THE BLANKET OVER YOUR HEAD, SNUGGLE DOWN AND GO BACK TO SLEEP
SAY, OH, I'LL DO IT TOMORROW – BUT TOMORROW NEVER COMES
SAY, I'LL DO IT SOON, AND SOON NEVER COMES BECAUSE YOU DON'T HAVE A PLAN
SAY, I CAN'T BE BOTHERED, I HAVE TOO MUCH TO DO, AND I'M TIRED.
IT'S TOO COLD, TOO HOT OUTSIDE
GOSH, I SAY THIS EVERYMORNING, DO YOU FIND YOU'RE REPEATING THESE THOUGHTS EVERY DAY?
YOU GO BACK TO SLEEP AND ANOTHER DAY PASSES. 
Noreen Sumpter is a Personal Life Coach and resident of Clinton Hill before it was Trendy and FABULOUS.
Noreen was born and bred in South (Saff) East London, England. A Certified Life Coach with over 10 years' experience, she is passionate, bright, funny and full of energy.  Noreen has spent a large part of her life in Clinton Hill.
I used to be that person, I used promise myself to get out of bed and exercise. Sometimes, I did.  However, it was more like wishing to exercise.  Wishing to get up.  I would often play mind games and try to work out in bed.  Not. I would promise to go out. I'd make every excuse known to man to find a way out. I even created workout buddies and pray they would punk out and they did.
Last year, I was diagnosed with Diabetes and I swung into action, within 6 months my glucose went from 10.5 to 6.4 and lost 40lbs of body fat thus reversing my Diabetes. Sexy, sexy…  Using my knowledge and gifts as a Personal Life Coach, I am here to support others to take action, create a purpose to get in shape by getting out of bed and help you redesign your body using your thoughts and taking actions to have your body be the tool it was designed for.  No more excuses. I will provide you with knowledge to take deliberate actions to live life your way fulfilling your dreams, and desires and rekindling an amazing relationship with your mind and body.
Join me on 3 weekly 45-60 minute walks, where you will move your energy and receive Personal coaching that will empower you to love you and the body you're in using the Law of Attraction and other transformational tools to create positive results in your life
For more information, Contact 917 945 5907 or noreen@noreensumptercoach.com
www.Noreensumptercoach.com