Thought leaders are defined as credible experts and innovators in their field, whose businesses benefit as a result of this visibility.
Lauren Banyar Reich has worked with authors, experts and business leaders from around the world on thought leadership campaigns to amplify their presence, build credibility and grow their businesses. The goal is to get our clients get more of what they want – clients, partners, market share, industry buzz, you name it – and more opportunities to speak on, or write about, their unique POV. In her presentation at September's Lunch Lady Event, Lauren discussed the four pillars of thought leadership, how to provide concrete takeaway, and on-site exercises that will help you and your business to begin – or advance – your thought leadership platform.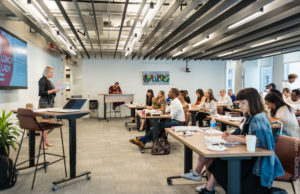 For over fifteen years, Lauren Banyar Reich has been helping luxury and lifestyle consumer brands, professional service firms and business thought leaders tell their stories to key audiences and influencers. In early 2015 Lauren founded LBR PR, a boutique agency that combines high-touch service and impactful results with a transparency and authenticity that is unique to the PR world.
If you aren't familiar, the Lunch Lady is a platform for women (and man-bassadors) in business. Lunch Lady is about education, networking and creating opportunities that grow and develop yourself and business.
The mission is to provide a courageous space for you to access your internal blueprint to grow your life and business by connecting you with people who will be a demand for you to have money, grow your business, and discover what it will take for you to live your best life. Lunch Lady wants you on the court, not the sidelines of your life, talking about your business or talking about what you need, whether it is finding your magic number that flips your business over to profitability, creating and finding your ideal client, or getting clear about the kind of business experience you want to have. It's about learning to view your mistakes as an opportunity for success so you don't stay stuck and can continue to grow and succeed in your business using your higher purpose.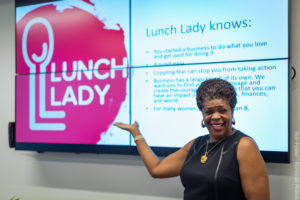 Lunch Lady is here to support feed you in an empowered way so that you can create new ways to think and put you in touch with the power of your thoughts by motivating you so you understand the role of your thoughts in your life to take action. There is nothing more important.
You are the most important person in your life.
"Unless commitment is made, there are only promises and hopes… but no plans."
~ Peter Drucker
Lunch Lady knows:
You started a business to do what you love and get paid for doing it
It is not easy
Crippling fear can stop you from taking action
Business has a language all of its own. We want you to find your own language and create the courage to share it so that you can have an impact on your business, finances, and world.
For many women, there is no plan B.
Lunch Lady: Feed Your Brain, Grow Your Business is curated By Noreen Sumpter, Personal Life Coach, Founder of Live Life Your Way, and past VP of NAWBO NYC. She has been a coach for 14 years and is host of radio show Beyond Potential: Live Life Your Way. Noreen has also been featured in Oprah Magazine, Reade'rs Digest, and interview on This American Life with IRA Glass. What Noreen loves about her life is being a servant leader and being happy.